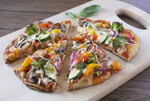 Ingredients
1 package prepared Naan flatbread (2 pieces)
½ cup tomato or pizza sauce
½ cup shredded Mozzarella cheese
4 cups chopped fresh veggies (broccoli, zucchini, tomatoes, red onions, bell peppers, mushrooms, baby potatoes)
1 tablespoon

 

Garlic olive oil
1 teaspoon

 

White Balsamic vinegar
1 teaspoon fresh herbs (basil, thyme and rosemary), chopped
Sea salt and freshly ground black pepper, to taste
Shredded Parmesan cheese, for garnish
Fresh basil leaves, for garnish
Preparation
Preheat oven to 400 degrees F.
Place two Naan flatbreads in a single layer on a large baking sheet, and top with pizza or tomato sauce and shredded Mozzarella cheese.
Toss the chopped veggies with the Garlic olive oil and White Balsamic vinegar and chopped fresh herbs, then add veggies to the pizza in a single layer on top of the cheese, seasoning with salt and pepper to taste.
Bake for 15 minutes until the crust is golden brown and the veggies are cooked through. Garnish with shredded parmesan cheese and basil; slice into pieces, serving warm.
Makes 2 flatbread pizzas, serving 2 to 4.