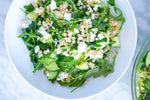 Cucumber Arugula Salad with Couscous, and Feta
Ingredients:
1 1/2 cups dried pearl (Israeli) couscous (about 3 cups cooked)

3 ounces baby arugula or tender salad greens, about 4 cups

1/2 hothouse (seedless) cucumber, chopped

2 ounces feta cheese, crumbled, about 1/2 cup

2 tablespoons fresh lemon juice, about 1/2 large lemon

4 tablespoons Miller's Blend extra virgin olive oil

1/2 teaspoon honey

2 tablespoons Cucumber Balsamic Vinegar

1 teaspoon dried basil or a handful chopped fresh basil leaves, optional

Sea salt and fresh ground black pepper
Instructions:
Bring a medium saucepan of salted water to a boil. Add couscous and cook until tender, 8-10 minutes. Drain then add to a large bowl.

Meanwhile, make the dressing. Whisk lemon juice, olive oil, honey, Cucumber Balsamic Vinegar and basil together until it looks thick and blended. Season to taste with salt and fresh ground black pepper.

Toss the cooked and drained couscous with the dressing then set aside for 5 minutes, stirring occasionally, until cooled slightly. Finish the salad by adding the arugula, cucumbers and feta. Toss well then serve.