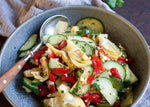 Mediterranean Feta Cucumber Salad
Ingredients:
3/4 English cucumber cut into thin half-circles (about 1 ¾ cups)

1 roasted red pepper, cut into thin 1-inch long pieces

4 canned (in water) artichoke hearts, quartered

2 tablespoons crumbled feta cheese

2 tablespoons minced flat leaf parsley

1/2 teaspoon dried oregano

1/4 teaspoon kosher salt

1/4 teaspoon ground black pepper

2 teaspoons cucumber balsamic vinegar

1 teaspoon Herbes De Provence extra virgin olive oil
Instructions:
In a medium bowl, combine the cucumber, roasted red pepper, artichoke hearts, feta cheese and parsley. Sprinkle the oregano salt and pepper over top.

In a small bowl, stir together the balsamic vinegar and olive oil. Drizzle over the cucumber mixture. Stir gently to coat the vegetables with the dressing. Serve.
Enjoy!