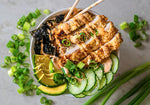 Katshu Chicken Sushi Bowl with Cucumber Balsamic and Spicy Mayo
Ingredients:
1 cup sushi rice

1/4 cup Cucumber Balsamic Vinegar

1 tbsp sugar

pinch of salt

1 tbsp miller's extra virgin olive oil

2 chicken breasts

2 eggs

1 cup flour

2 cups panko bread crumbs

2 avocados

1 cucumber

2 tbsps mayo

1 tbsp sriracha

1 packet seaweed snacks

1 spring onion finely chopped

1 tbsp sesame seeds
Instructions:
Cook the sushi rice per package directions.

Flatten the chicken breasts so they are an even thickness.

Set up a dredging station. Pour the flour onto a plate. Whisk the egg and pour onto a second plate and put the panko on a third with a pinch of salt and pepper.
Coat the chicken first in flour, then egg, then panko, making sure every part is covered.

Spray the air fryer with oil and cook the chicken at 200 degrees for 20 minutes flipping half way. 

Stir together the sriracha and mayo in a small bowl. Add more sriracha if you like it spicy.

In a small saucepan gently warm the cucumber balsamic vinegar, sugar, salt and miller's blend extra virgin olive oil until the sugar and salt have dissolved.
When the rice is cooked, stir it through and add to a bowl.

When the chicken is nice and crispy, slice it into strips and add it to the bowl on top of the rice.
Then add the sliced cucumber and avocado, seaweed, spring onions, sriracha mayo and sesame seeds.
Enjoy!