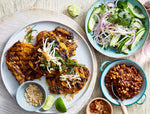 Lamb with Cucumber, Onion & Coriander Salad
Ingredients:
2lb lamb forequarter chops

5 oz. Soy sauce

4 oz peanut oil

1 tbsp turmeric powder

2 garlic cloves

2 tbsp shrimp paste

1 cup unsalted peanuts

2 tbsp sugar

10g Indonesian sambal oelek

1 cup water

2/3 cups coconut milk

Crushed peanuts, lime wedges and sliced spring onions to serve
For Cucumber & Onion Salad:
1 large red onion

Cucumber, cut in half lengthways, sliced on angle

Bean sprouts

Fresh coriander leaves

Fried onions, to garnish

2 tbsp Lime Extra Virgin Olive Oil

2 tbsp Cucumber Balsamic Vinegar
Instructions:
For the sauce

1. Heat half the peanut oil and fry garlic and shrimp paste until caramelized and fragrant, approximately 1 minute.

2. Add peanuts and sugar until they start to brown, approximately 2 minutes.

3. Stir in soy sauce, water and coconut milk and cook gently for 10-15 minutes whilst stirring. Remove from heat and place in serving container.


For the lamb and salad

1. While sauce is cooking, combine other half of the peanut oil, turmeric  and brush thoroughly over lamb chops.

2. Cook the lamb over a high heat on a grill pan or outdoor barbecue, turning regularly until evenly cooked and well caramelized (some char is good) up to 5 minutes per side.

3. Whilst the sauce and meat are cooking, place onion, cucumber, bean sprouts and coriander in a bowl and toss through cucumber balsamic and lime extra virgin olive oil. Top with fried onions to serve.

4. Serve lamb on a platter with peanuts, spring onions, lime with a generous portion of the peanut sauce and side salad.
Enjoy!