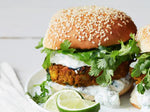 Pumpkin Burgers with Cucumber and Raita
Ingredients for Raita:
1 cup nonfat Greek yogurt

1 teaspoon lime zest

Pinch cayenne pepper

Kosher salt

2 small Kirby cucumbers, unpeeled, finely diced

2 tablespoons minced fresh mint
Ingredients for Pumpkin Burgers:
6 ounces hearts of romaine leaves

2 tbsp cucumber balsamic vinegar

1 cup fresh cilantro leaves

4 tablespoons rosemary extra virgin olive oil, plus more for oiling the grill grates

1 cup finely diced yellow onion

2 cups finely diced yellow bell pepper

1 1/2 cups finely diced zucchini

Kosher salt

1 tablespoon curry powder

1 tablespoon garam masala

1/2 teaspoon ground ginger

1 1/2 cups chickpeas, roughly chopped

3/4 cup canned pumpkin puree

1 cup plain breadcrumbs

Freshly ground black pepper

4 hamburger buns

4 lime wedges, for serving
Instructions:
For the raita: Whisk the yogurt, lime zest, cayenne and a pinch of salt together in a medium bowl until smooth. Whisk in enough water to make the yogurt barely pourable. Stir the cucumber and mint into the yogurt. Set aside.

For the burgers: Preheat a grill for cooking over medium-high heat. Cut the lettuce into thin strips and coarsely chop the cilantro leaves. Toss together in a small bowl and refrigerate until ready to serve.

Heat the rosemary extra virgin olive oil in a medium skillet over medium-high heat. Add the onions and cook, stirring occasionally, until tender and browned, about 4 minutes. Add the bell peppers, zucchini and 1 teaspoon of salt and cook, stirring occasionally, until tender and beginning to brown, 3 to 5 minutes.
Add the curry powder, garam masala, and ground ginger and cook, stirring, 1 minute more. Transfer to a plate and refrigerate for about 5 minutes to cool.

While the vegetables cool, stir together the chickpeas and pumpkin in a medium bowl. Add the cooled vegetables, breadcrumbs, 1 teaspoon salt, cucumber balsamic, and some pepper and stir with a rubber spatula until combined.

Divide the mixture into 4 equal portions and form each portion into a patty. Rub oil on the grill grates and place the patties on the grill. Grill 6 minutes on each side, then transfer to a plate.

Place a dollop of raita on the bottoms of the buns, then top with a patty, another dollop of the raita, some of the lettuce and cilantro mix and cover with the bun tops. Serve with lime wedges.
Enjoy!