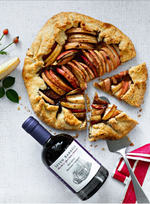 Brown Sugar Apple Tart
Preparation: 10 minutes
Cook time: 35 minutes
Serves 4
Ingredients:
2 large apples, cored and sliced ½-inch thick
¼ cup light brown sugar
2 tablespoons

 

Seven Barrels Red Apple Balsamic Vinegar
1 teaspoon ground cinnamon
1 refrigerated pie crust dough, softened according to package directions
1 tablespoon heavy cream or beaten egg yolk
Instructions:
Preheat the oven to 400° F.
Toss together the apples, brown sugar, vinegar and cinnamon in a bowl.
Unroll the pie crust on a lightly floured surface and use a rolling pin to form an 11-inch round. Transfer to a parchment-lined baking sheet. Mound the apples in the middle of the dough, leaving a 2-inch border.
Gently fold up the border over the edge of the fruit and pinch it into pleats, to seal. Brush the edge of the crust with the cream. Bake 30-35 minutes, until the crust is golden brown.
Cool for about 10 minutes before slicing and serving.
Enjoy!