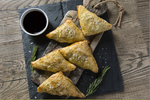 Sausage, Mushroom and Cheese Turnovers
Ingredients
2 tablespoons

 

Seven Barrels Meyer Lemon Olive Oil
½ pound sweet Italian sausage, casings removed
½ cup green onion, sliced (about 4 scallions)
½ cup baby bella mushrooms, chopped
½ cup dried cranberries or tart cherries
¾ cup ricotta cheese
1 ½ cups mozzarella cheese, shredded
2 eggs, beaten, divided
1 tablespoon

 

Seven Barrels Raspberry Balsamic vinegar, plus extra for dipping
Dash of Italian seasoning
Sea salt and freshly ground black pepper, to taste
1 package (17.25 ounce) frozen puff pastry, thawed (2 sheets)
2 tablespoons sesame seeds, for garnish
Coarse sea salt, for garnish
Chopped rosemary, for garnish
Instructions
Preheat oven to 400 degrees F.
Heat 2 tablespoons of Seven Barrels Lemon Olive Oil in a large skillet over medium-high heat. Add the sausage and cook for about 5 minutes until it starts to brown, crumbling while cooking to separate the meat. Add the green onions and mushrooms and cook for another 5 minutes until the veggies are soft and meat is cooked through. Drain the fat and excess liquid, set cooked mixture aside to cool.
In a large mixing bowl, combine cooked sausage mixture with dried cranberries or tart cherries, ricotta, mozzarella cheese, 1 beaten egg and 1 tablespoon Seven Barrels Raspberry Balsamic vinegar to make the filling. Season with a dash of Italian seasoning, salt and freshly ground black pepper.
On lightly floured surface, roll one sheet of puff pastry into a large 12-inch square. Cut pastry sheet into 9 (4-inch) squares and brush edges with egg wash.
Place 1 rounded teaspoon filling on each square; fold to make a triangle; seal with fingers or fork. Place the triangles on parchment paper or a silicone baking mat on a large rectangular baking sheet and brush egg wash over the top of the turnovers, pierce 3 slits on top of each one, and sprinkle with sesame seeds.
Bake at 400 degrees F for 15-20 minutes or until golden brown. Meanwhile, repeat steps above with the remaining sheet of puff pastry and sausage, mushroom and cheese filling to make 9 additional turnovers. Bake again at 400 degrees for 15-20 minutes.
Sprinkle sea salt and chopped rosemary (or thyme) on top of the turnovers for garnish. Serve immediately with Seven Barrels Raspberry Balsamic vinegar for dipping.
Makes 18 (4-inch) turnovers.