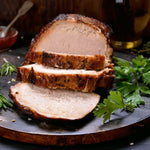 Easy One Pan Maple Glazed Pork with Apples and Onions
Ingredients
2 pound lean pork loin roast

salt and pepper to season the roast

3 large sweet onions, chopped

4 large gala apples, chopped and peeled

1 tsp. fresh or dried thyme, chopped

1 tsp. fresh or dried rosemary, chopped

1/2 tsp. smoked paprika 

For Glaze:
1/4 cup Maple balsamic vinegar 
1/4 cup real maple syrup
2 tbsp Red apple balsamic vinegar
1 tsp. Dijon mustard
2 cloves garlic, minced
1 tsp. fresh or dried thyme
1 tsp. fresh or dried rosemary
Instructions:
Preheat your oven to 375 degrees Fahrenheit.
Heat a large cast iron skillet over medium-high heat and add the olive oil.
Pat the pork roast dry with a paper towel and generously season all sides with salt and pepper.
Brown all sides of the pork roast in the hot cast iron pan until the outside of the roast is golden brown. Don't worry about cooking in all the way through here (it will finish cooking in the oven!), just get that nice golden brown color on the outside.
Remove the pork roast from the pan to a plate and set aside.
Add the onions, apples, thyme, rosemary and paprika to the pan and toss well in the meat juices.
Let the onions and apples cook just until they begin to soften and take on color.
Prepare the glaze by whisking together the maple balsamic, red apple balsamic maple syrup, garlic, dijon mustard, thyme, and rosemary in a small bowl.
Add the pork roast back to the pan and nestle the roast into the bed of apples and onions.
Brush the glaze over the pork roast to coat it generously on all sides. Use all the glaze, and if necessary pour the remainder over the roast.
Place the skillet in your preheated oven (to 375 degrees Fahrenheit) and roast for about 35 minutes or until the center of the roast reaches an internal temperature of 65 degrees Celsius or 145 degrees Fahrenheit.
Remove the skillet from the oven when the pork is cooked through and cover with foil, letting it stand for about 5 minutes before slicing and serving.
Enjoy!