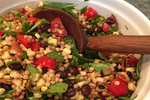 Israeli Couscous with Arugula, Cherry Tomatoes and more
Ingredients
1 c Israeli Couscous
Handful of Arugula
1 c cherry tomatoes, each cut in quarters
2 ears of corn, grilled, kernels sliced off
5 slices of bacon, cooked and diced (optional)
½ c (1/2 can) black beans, rinsed & drained
6 basil leaves, sliced into strips
S&P
Instructions
Fry couscous in olive oil for 2-3 minutes until lightly brown. Add salt & 1.25 cups of boiling water. Cover pan and cook on low heat for 6 minutes, stirring occasionally, until water is gone.
In a medium bowl, combine couscous, arugula, tomatoes, corn kernels, bacon, beans & basil. Drizzle oil & vinegar. Season with s&p.
Serves 4 as a side dish.