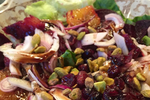 Beet, Fennel & Orange Salad
Ingredients
3-4 medium beets, tops trimmed
2 medium navel oranges (or 1 blood orange, 1 navel)
½ fennel bulb, sliced crosswise with a mandoline
¼ red onion, sliced crosswise with a mandoline
1 shallot, sliced crosswise with a mandoline
½ c toasted pecans or ½ c shelled pistachio nuts
¼ c dried cranberries
1 avocado, peeled, pitted & cubed
½ head Boston lettuce, cut into bite-sized pieces
Instructions
Wash & trim beets. Wrap individually in foil and roast about 1 hour at 400-degrees, until tender. Let cool.
Peel oranges and slice crosswise. Peel cooled beets, slice 2 into thin rounds, the others into small wedges.
Layer at the bottom of bowl: lettuce, then beets & oranges, top with fennel, red onion, shallots, nuts & cranberries. Add optional avocado.
Drizzle dressing, season with salt & pepper. Enjoy!