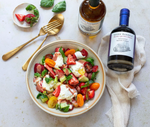 Strawberry Tomato Salad With Burrata
Preparation: 10 minutes
Cook time: 0 minutes
Serves 4
Ingredients:
For the dressing:
1/3 cup sliced strawberries
3 tablespoons Seven Barrels Sweet Basil Extra Virgin Olive Oil
2 tablespoons Seven Barrels Traditionale Balsamic Vinegar
1 tablespoon fresh lemon juice
1 tablespoon honey
½ teaspoon salt
For the salad:
1 pound strawberries, hulled and quartered lengthwise
1 pound vine tomatoes or cherry tomatoes, sliced in half or in quarters
1 8-ounce ball burrata cheese
1 scallion, thinly sliced
½ cup fresh basil leaves, torn
Instructions:
To make the dressing: Place the strawberries, olive oil, vinegar, lemon juice, honey and salt in a small food processor or blender and process until smooth.
Layer the strawberries and tomatoes on a large platter. Gently tear the burrata into 4 pieces and nestle into the fruit. Sprinkle the scallions and basil over the top and drizzle with half the dressing. Serve and enjoy!
*Extra dressing can be refrigerated up to 3 days.
Enjoy!