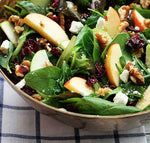 Apple Cranberry Walnut Salad
Ingredients:
For the Salad:

6 cups Arugula, or any other salad mix 

1 red apple

1 green apple

1 cup walnuts - roughly chopped

⅓ cup crumbled feta cheese

⅓ cup dried cranberries

For the Salad Dressing:

1 cup Red Apple Balsamic Vinegar

2 tablespoons honey

½ teaspoon salt

¼ teaspoon black pepper

1/2 cup Tuscan Herb Extra Virgin Olive Oil
Instructions:
Core and chop apples (thin slices or 1 inch chunks). Toss lettuce, apples, walnuts, feta, and cranberries together in a large bowl.

Whisk together all dressing ingredients. Toss with salad immediately before serving. Enjoy!