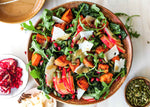 Autumn Salad with Maple Balsamic Dressing
Ingredients:
For Salad:

1 Tbsp. Rosemary Extra Virgin Olive Oil

2 tsp. maple syrup

1/2 tsp. ground cinnamon

1/4 tsp. cayenne pepper

1/4 tsp. salt

3 cups peeled and cubed sweet potatoes (about 2 small-medium potatoes)

1 bunch lacinato kale, stemmed and roughly chopped

2 cups arugula (sub spring mix or spinach)

1 medium apple, cored and sliced (or roughly chopped)

3 Tbsp. toasted pumpkin seeds (pepitas)

1/4 cup shaved Parmesan or Pecorino cheese

Pomegranate arils for garnish

For Maple Balsamic Vinegar Dressing:

4 Tbsp. Maple Balsamic Vinegar

4 Tbsp. Rosemary extra-virgin olive oil

Salt and pepper to taste
Instructions:
Preheat oven to 425ºF. In a small bowl, combine Rosemary Extra Virgin Olive Oil, maple syrup, cinnamon, cayenne, and salt; stir with a whisk. Arrange sweet potatoes on a baking sheet and pour maple mixture overtop; toss until cubes are well-coated. Bake for 25 to 30 minutes, tossing once halfway through, until tender and caramelized.

Prepare Maple Balsamic Vinegar Dressing by combining ingredients and whisking constantly, until dressing is smooth. Season to taste with salt and pepper.

Place kale in a large bowl and add half of dressing. Use your hands to massage dressing into kale leaves for about 30 seconds, until they start to soften. Add arugula, apple, pumpkin seeds, and cheese; toss to combine. Add sweet potatoes and remainder of dressing; gently toss again until all components are coated in dressing. Garnish with pomegranate arils, if desired.
Enjoy!