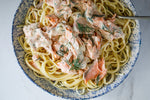 Ingredients:
1-2 salmon fillets skin-on (depends on size)
2 tsp Meyer lemon extra olive oil
2 tbsp Cucumber Balsamic Vinegar
salt and pepper to taste
For the creamy pasta sauce:
½ onion finely chopped
3 garlic cloves crushed
1 cup heavy / whipping cream
1 tbsp dill finely chopped
1 tsp fresh lemon juice
salt and pepper to taste
1lb pasta cooked and 1 cup water reserved.
Instructions:
Pat the salmon dry with paper towels. Drizzle over the olive oil, and balsamic vinegar and season with salt and pepper.

Heat a nonstick frying pan over high heat. Add the salmon, skin-side down, and cook until the skin is crispy and golden (approximately 3-4 minutes). Carefully flip the fish over and cook for another minute or two on the other side until done to your preference. Remove from the pan and set aside.

Add the butter to the pan then add the onion. Cook for a few minutes until softened and add the garlic. Cook for 30 seconds then pour in the cream. Add the dill and lemon then bring to a gently simmer.

Simmer the cream sauce for 5-7 minutes until it coats the back of a spoon. Flake in the salmon and season with salt and pepper.

Add the pasta and toss until the pasta is coated in the sauce. If necessary add a few tablespoons of pasta water.

Taste and adjust seasoning then serve.
Enjoy!