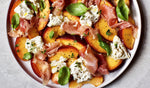 Fresh Peach, Burrata and Prosciutto Salad
Ingredients:
2 large ripe peaches
8 ounce ball burrata cheese
2-3 slices prosciutto
2 tablespoons Meyer lemon extra virgin olive oil
2 tablespoons Cucumber balsamic vinegar
1 tablespoon fresh thyme leaves
1 teaspoon smoked sea salt
1/2 teaspoon freshly cracked black pepper
fresh basil leaves to serve
Instructions:
Slice peaches into 1/2 -inch thick wedges and arrange on a large plate or platter.

Carefully tear into the burrata and arrange pieces of equally on top of the peaches. Do the same with the proscuitto then drizzle the salad with olive oil, and balsamic vinegar. Sprinkle with thyme leaves, sea salt, pepper and scatter basil on top.

Serve immediately, or cover tightly with plastic wrap and store in the refrigerator for up to 15 minutes. You do not want the moisture from the peaches and cheese to rehydrate the proscuitto,
Enjoy!