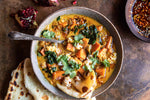 Sweet Potato and Rice Stew with Sriracha Sauce
Ingredients:
3 tablespoons Rosemary extra virgin olive oil
1 yellow onion, chopped
2 inches fresh ginger, grated
4 cloves garlic, minced or grated
2 sweet potatoes, peeled and cubed
2 teaspoons garam masala
1 teaspoon turmeric
1/4- 1/2 teaspoon cayenne pepper more or less to taste
1/3 cup fresh cilantro, chopped, plus more for serving
kosher salt and black pepper
1 (14 ounce) can coconut milk
3 cups chopped kale
2 cups cooked basmati rice
For Sriracha Sauce:
1/3 cup Rosemary extra virgin olive oil
2 tablespoons Sriracha White Mango Balsamic Vinegar
4 cloves garlic lightly smashed
1 tablespoon raw sesame seeds
2-3 teaspoons crushed red pepper flakes
1 teaspoon ground cumin seed
1 teaspoon paprika
Instructions:
Heat the olive oil in a large pot over medium heat. When the oil shimmers, add the onion and cook 5 minutes until soft. Add the ginger, garlic, and sweet potatoes and cook until fragrant, about 2 minutes. Stir in the garam masala, turmeric, and cayenne and cook another minute.

Add 3 cups water. Season generously with salt. Bring the mix to a boil over high heat, then reduce the heat to low. Cover and simmer 15-20 minutes, until the sweet potatoes are tender.

Stir in the coconut milk and kale, cook 5 minutes. Remove from the heat and add the cilantro.

Meanwhile, make the Sriracha sauce. Heat the olive oil, sriracha balsamic vinegar and garlic in a small saucepan over medium-low heat. Cook, stirring occasionally until the garlic is fragrant, 5 minutes. Stir in the sesame seeds, chili flakes, and cumin seeds, cook 30 seconds. Remove from the heat and stir in the paprika. Season the oil with salt. Let cool.

To serve, divide the rice among bowls and ladle the stew overtop. Spoon over the chili oil and top with cilantro. Serve with Naan on the side. Enjoy!