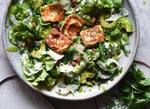 Ingredients:
FOR THE SALAD
1-2 large heads lettuce, of choice
1/ 4 bulb fennel, sliced on a mandolin
1-2 Lebanese cucumbers, sliced on a mandolin
1 avocado, finely sliced
1 small handful almonds, toasted
1 packet halloumi, sliced into 1/4" pieces
1 small handful basil
1 small handful dill
Flaked salt
Black peppercorns, freshly ground
Lemon juice
1 tbsp Meyer Lemon Extra Virgin Olive oil
FOR THE PESTO
1/ 2 cup arugula
1 tbsp. Cucumber Balsamic Vinegar
1 cup almonds, or pine nuts, toasted
1 cup Meyer Lemon Extra Virgin olive oil
Instructions:

Blend the ingredients for the pesto together in a high speed food processor until smooth. Adjust for salt, pepper and lemon juice and set aside.

Toss and assemble the vegetables and herbs for the salad on a large serving platter. Reserve the pesto, dressing elements, and a couple of herbs for garnish.

Heat a nonstick pan over a high heat. Once it is sizzling hot, place the halloumi flat side down in the pan. Give it a minute or two before flipping - there should be a lovely caramelized crunchy surface to the halloumi. Adjust the heat as necessary (halloumi cooks well with residual pan heat so you may like to take it off momentarily) and repeat until all the halloumi is cooked.

Arrange the halloumi on the plate and finish with the pesto, olive oil, lemon juice, and herbs for garnish. Serve while the halloumi is warm.
Enjoy!