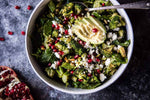 Lemon Garlic Roasted Broccoli Salad
Ingredients:
3 heads broccoli florets and stems roughly chopped
1/3 cup pine nuts
4 tablespoons meyer lemon extra virgin olive oil
4 cloves garlic minced or grated
kosher salt and pepper
1/4 cup chopped fresh parley
juice from 1 lemon
1 tablespoon cucumber balsamic vinegar
pinch of crushed red pepper flakes
1-2 cups baby kale
arils from 1 pomegranate
1 avocado sliced
6 ounces feta cheese crumbled
Instructions:
Preheat the oven to 425 degrees F.

On a large baking sheet, toss together the broccoli, pine nuts, 2 tablespoons olive oil, garlic, and a large pinch of both salt and pepper. Transfer to the oven and roast for 20-25 minutes or until the broccoli is just beginning to char. Remove from the oven and stir in the parsley.

Meanwhile, make the dressing. In a small bowl, whisk together the remaining 2 tablespoons olive oil, lemon juice, balsamic, and crushed red pepper flakes. Taste and season lightly with salt and pepper.

Pour the dressing over the roasted broccoli. Add the baby kale and pomegranate arils. Gently toss to combine. Transfer the salad to a bowl and top with feta and sliced avocado. Enjoy!