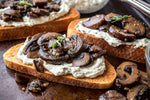 Ingredients:
3 tablespoons unsalted butter
2 (8 ounce) packages sliced cremini mushrooms
¼ cup white wine
4 cloves garlic, pressed through garlic press, plus 1 whole clove, peeled, divided use
2 teaspoons thyme leaves
Salt
Black pepper
6 slices of your favorite rustic-style bread (sourdough is ideal)
Thyme leaves, for garnish
3 tablespoons Garlic Extra Virgin Olive Oil
3 tablespoons Traditionale Balsamic Vinegar
Herbed Ricotta Spread Ingredients:
½ cup whole milk ricotta cheese
½ cup whipped cream cheese (softened at room temp)
¼ cup grated parmesan cheese
1 tablespoon minced chives
1 tablespoon chopped flat-leaf parsley
1 teaspoon thyme leaves, minced
Pinch salt
Pinch black pepper
Instructions:
Begin by gathering and prepping all of your herbed ricotta ingredients according to the ingredient list above to have ready and organized for use.

To prepare you herbed ricotta, add all of the ingredients into a medium-size bowl, and using a spatula, blend everything together until smooth and completely combined. Set aside, keeping at room temp.

Next, gather and prep all of your mushroom toast ingredients according to the ingredient list above to have ready and organized for use.

To prepare your mushrooms, place a cast-iron or other heavy bottom skillet or pan over medium-high heat. Add in the butter, and once it has melted, add in the mushrooms and saute for about 7 to 8 minutes, until they become a deep golden-brown and begin to caramelize. (They will, at first, release a good bit of liquid, but then it evaporates, and the mushrooms become almost sticky, and caramelize.)
Add in the wine, and once it has reduced (after about 30 seconds), add in the 4 cloves of pressed garlic and the thyme, and stir those in to incorporate. Once the garlic becomes aromatic, add in a couple of pinches of salt and pepper. Set the sauteed mushrooms aside and keep warm.

Next, toast your slices of bread, and then rub the remaining whole clove of garlic over each slice.

To assemble the mushroom toast, spread the herbed ricotta mixture generously over each slice of the garlicky toast, then spoon generous amounts of the sauteed mushrooms onto each piece. Garnish with a little addition thyme, drizzle balsamic vinegar, and Extra Virgin Olive Oil over to finish. Enjoy!