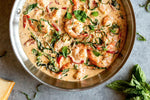 Ingredients:
1 1/2 pounds shrimp
2 tablespoons Sweet Basil Extra Virgin Olive Oil
2 tablespoons Sriracha Mango White Balsamic Vinegar
3 tablespoon butter
4 large garlic cloves minced
1/2 yellow onion finely minced
3-4 ounces roasted red peppers thinly sliced.
1/4 teaspoon paprika
1 1/2 cups heavy cream
1 cup (packed) fresh basil leaves plus more for garnish
1 cup fresh grated parmesan
1/4 teaspoon crushed red pepper flakes
1/2 cup white wine (or chicken stock)
salt to taste
black pepper to taste
Instructions:
In a large non stick pan on medium heat, melt 2 tablespoons butter. Season shrimp with salt, pepper, and extra virgin olive oil, then sear, 1-2 minutes on each side, until just pink. Remove from the pan and set aside.

In the same skillet add 1 tablespoons butter. Add onion, garlic, peppers, paprika, red chili pepper flakes, salt and pepper. Sauté for about 5 minutes, until onions and peppers are softened.

Add wine to deglaze the skillet and bring to a gentle simmer until reduced by half.
Reduce heat to medium low. Add cream, and sriracha white mango balsamic vinegar to the skillet and stir until a creamy sauce forms.
Taste and adjust seasoning with salt and pepper. Add Parmesan, stir until melted into sauce. Stir in basil, simmer until wilted, 1-2 minutes.

Add shrimp back to the skillet and reheat 1-2 minutes. Sprinkle with fresh basil and serve over pasta, zoodles, spaghetti squash. Enjoy!