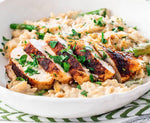 Creamy Parmesan Orzo with Chicken
Ingredients:
1 pound chicken breast boneless and skinless (about 3)
½ teaspoon salt or to taste
½ teaspoon pepper or to taste
1 tablespoon paprika
2 tablespoon garlic extra virgin olive oil
2 tablespoon traditionale balsamic vinegar
1 cup asparagus chopped
1 large onion chopped
4 cloves garlic minced
2 cups orzo uncooked
2 cups half and half
3 cups chicken broth low sodium, or water
1½ cups Parmesan cheese grated
2 tablespoon parsley chopped, for garnish
Instructions:
Season the chicken breasts with salt, pepper and paprika on both sides.
In a large skillet heat the 2 tbsp of olive oil over medium-high heat. Sear the chicken for about 5 minutes per side, or until golden brown and cooked through. Depending on the thickness of your chicken you might need longer time. Transfer the chicken to a warm plate; set aside.

In the same skillet add the asparagus and saute for about 3 minutes, just until it starts to soften and starts to brown a bit. Transfer to a plate; set aside.

In the same skillet add the onion and garlic and saute for about 3 minutes until the onion is translucent and the garlic becomes aromatic. Add more olive oil if needed.

Add the orzo to the skillet and saute for just one minute, to get it a little toasted, this will give it a nutty flavor. Add the half and half, chicken broth and stir.

Bring to a boil, then turn the heat down to a medium-low, cover with lid and let it cook for 10 minutes.

Remove the lid and stir in the Parmesan cheese. Taste for seasoning and adjust with salt and pepper.

Add the asparagus back and stir it in. Slice the chicken into thin slices. You can either add it to the skillet and stir it in, or as seen in the photos, arrange over the orzo.

Garnish with Traditionale Balsamic Vinegar more Parmesan cheese if preferred, and parsley. Serve warm. Enjoy!