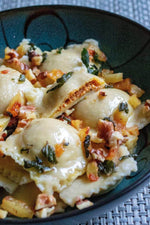 Pumpkin Ravioli in Sage Butter Sauce
Ingredients:
Ravioli Dough:
3 cups all purpose flour
1 teaspoon salt
3 large eggs
1 tablespoon Rosemary extra virgin olive oil
2 teaspoons water
extra flour for rolling
Pumpkin Ravioli Filling:
1 cup ricotta cheese
3/4 cup pumpkin puree
1/3 cup parmesan cheese grated
1 large egg
1/2 teaspoon garlic powder
1/2 teaspoon cinnamon
1/2 teaspoon allspice
2 tablespoons brown sugar
1/2 teaspoon cayenne powder
1 teaspoon salt
1/4 teaspoon pepper
non-stick cooking spray
Apple Sage Butter:
1/2 cup butter
16-18 fresh sage leaves chopped or ripped
1 apple - gala or honeycrisp peeled, cored, diced
1 teaspoon Bourbon Balsamic Vinegar
1/4 cup walnuts chopped
Instructions:
To Make the Ravioli Dough
Start by making your homemade ravioli dough. On your counter top or a large cutting board, add your flour and salt and lightly mix with a fork to combine. Now, using your hand, make a well in the middle of the flour. Next, add your eggs, olive oil and water to the middle of the well and lightly whisk the eggs together a bit, doing your best not to let your eggs escape and break out of the well.

Now, using your hands, lightly start combining the flour and the egg mixture once the dough is formed start kneeding it together and folding the dough on top of itself over and over again for about 10 minutes. Then form your ravioli dough into a ball, wrap it in plastic wrap and let it sit undisturbed on your kitchen counter for one hour.

To Make the Pumpkin Ravioli Filling
After that hour has passed and you are ready to make your pumpkin ravioli, make your pumpkin ravioli filling by combining ricotta and pumpkin in a large mixing bowl. Add in the parmesan, egg, garlic powder, brown sugar and spices and mix to combine and set aside.

To Make the Pumpkin Ravioli
On your countertop or a large cutting board, unwrap you're ravioli dough and tear off a chunk about the size of a tennis ball. Throw some flour down on your work surface and a little on the top of the dough you are about to roll out and then using a rolling pin, start rolling the dough out and away from you, back and forth and side to side until you have a rectangle type shape about 16 inches long and about 10 inches wide.

At this time, grab your ravioli tray and with non-stick cooking spray, lightly coat the top of the tray and the bottom of the press tray. Gently move your dough to lighly rest on top of your ravioli tray and lightly press down on the dough by placing the press tray on top to create the well. Gently remove the press tray and using a spoon, fill your ravioli wells with your pumpkin filling, taking care not to over fill of have your filling extend past the wells. Then roll out another sheet of dough exactly as you did the first and lay it gently on top of your filled ravioli. Take your rolling pin and lightly roll your pin over the dough to seal the ravioli. Using your finger or the back of a spoon, carefully remove the excess dough from the edges of the frame and lightly run your finger down all of the cross grooves to make sure all sides of your ravioli are sealed. Lift your tray and carefully turn upside-down on a parchment paper lined baking tray. The ravioli should easily release from the tray and then you can gently tear them apart from each other. Collect the dough scraps and re-roll to make another batch of raviolis. At this point, decide if you want to freeze them to be served later or if you are cooking them now.

Add your fresh ravioli to a pot of boiling water and cook for 5-6 minutes. While your ravioli is cooking, add chopped walnuts to a small pan and toast over medium high heat. You will want to stir them often or they will burn. Cook for 3-4 minutes or until they become fragrant. Once they are toasted remove from heat and set aside. Next, add butter to a large skillet and melt over medium high heat. Add in your diced apple and bourbon balsamic vinegar and cook for 2 - 3 minutes. Add in your chopped fresh sage and cook for 2 - 3 minutes so that it starts to sizzle and fry. Once your ravioli has cooked, drain the water and add the pumkin ravioli to the sage butter and stir to coat. Finish by drizzling extra olive oil and balsamic vinegar over ravioli's. Serve immediately and top with toasted walnuts.
Enjoy!