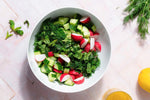 Cucumber Radish Salad With Fresh Herbs
Ingredients:
1 large cucumber, diced

1-2 cups quartered radishes

2 tbsp finely chopped fresh dill

1 tbsp finely chopped fresh mint

2 tbsp tuscan herb extra virgin olive oil

2 tbsp pomegranate balsamic vinegar

1 tbsp freshly squeezed lemon juice

¼ tsp garlic powder (optional)

Sea salt and pepper to taste
Instructions:
In a large bowl toss together the cucumber, radishes, dill, and mint.

To make the vinaigrette, into a small glass or a jar, add the olive oil, balsamic vinegar, lemon juice, garlic powder if using, sea salt, and pepper.

Stir or cover with a lid and shake until emulsified.

Pour the dressing over the vegetables and toss. Enjoy on its own or with a choice of protein, enjoy!