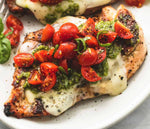 Grilled Chicken Margherita
Ingredients:
4 boneless skinless chicken breasts - pounded to less than 1 inch thickness

salt and pepper to taste

2 tablespoons tuscan herb extra virgin olive oil

2 tablespoons pomegranate balsamic vinegar

1 teaspoon garlic powder

1 teaspoon Italian seasoning

4 slices mozzarella cheese

½ cup basil pesto 

½ cup cherry tomatoes - halved

1 tablespoon fresh lemon juice

½ cup packed basil leaves - very thinly sliced

cracked black pepper
Instructions:
!n a large bowl combine chicken, salt and pepper, olive oil, balsamic vinegar, garlic power, and Italian seasoning. Toss to combine.
Grill chicken over medium-high heat for about 6-8 minutes on each side until cooked through. Top each piece of chicken with a slice of mozzarella cheese and cook another minute or so until melted.
Toss tomatoes, lemon juice, and basil together. Top each chicken breast with about 3 tablespoons pesto, a scoop of tomatoes, and some freshly cracked black pepper. Serve immediately. Enjoy!