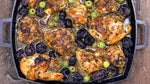 Ingredients:
1 whole chicken, cut up

1 tablespoon bourbon balsamic vinegar
1 tablespoon garlic extra virgin olive oil

3 bay leaves

1 head garlic, peeled

½ cup pitted prunes

½ cup pitted Spanish green olives

¼ cup capers, with a little bit of juice

¼ cup red wine vinegar

¼ cup Early Harvest Greek extra virgin olive oil

2 tablespoons dried oregano

Kosher salt

pepper

½ cup white wine

¼ cup brown sugar

2 tablespoons chopped parsley, optional
Instructions:
Cut the chicken: Take a whole chicken and using sharp kitchen scissors cut the backbone out. Then press down on top to separate the rest of the bones. Remove the legs and thighs, then remove the wings and tips.

Make the marinade: In a large bowl combine bay leaves, garlic cloves, prunes, olives, capers, red wine vinegar, bourbon balsamic vinegar, garlic extra virgin olive oil, dried oregano, salt, and pepper. Stir it together then add the chicken. And smoosh it around. Make sure you lift up the skin a little bit so the marinade clings to the flesh of the chicken as well.

Let the chicken sit: Cover the bowl and place it in the fridge overnight. (If you don't have enough time, allow at least 30 minutes of marinating time.)

Roast the chicken: The next day preheat the oven to 350°F. Transfer the chicken and the marinade, including the prunes, olives, etc., into a large oven safe skillet or baking dish and spread it out a bit so the chicken pieces don't overlap. Pour the wine into the baking dish. Sprinkle the top of the chicken with brown sugar and place in the oven for 50 to 60 minutes. Baste with the pan juices a couple of times while the chicken cooks.

Remove from the oven: The chicken is ready when its internal temperature reaches 165°F and the skin has turned a golden brown. Transfer the chicken to a large serving platter and spoon the prunes, olives, and capers on top.

Make the sauce and serve. Bring the juices in the roasting pan to a boil over medium heat and reduce until you are left with about ½ cup of sauce. Strain the sauce into a bowl, then pour it over the chicken. Sprinkle with chopped parsley. Serve and enjoy!