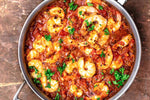 Ingredients:
1 pound large shrimp, peeled and deveined, tails attached

Kosher salt

2 teaspoons crushed red pepper flakes, more to your liking

5 Tbsp sweet basil extra virgin olive oil

1 Tbsp white balsamic vinegar

1 medium yellow onion, chopped

5 garlic cloves, minced

1 cup dry white wine

1 15- ounce can diced fire-roasted tomatoes, or plain fire-roasted tomatoes

¼ cup tomato paste

Black pepper

2 teaspoons dried oregano

½ cup chopped fresh parsley
Instructions:
Pat the shrimp dry and season with kosher salt and 1 teaspoon of red pepper flakes.

Heat 2 tablespoons extra virgin olive oil in a large skillet. Add the shrimp and cook for 45 seconds to 1 minute over medium heat. Transfer the shrimp and its juices to a plate for now. (If the shrimp is still grey in some parts it is okay, it will finish cooking in the sauce).

In the same skillet, heat another 3 tablespoons extra virgin olive oil over medium-high until shimmering. Reduce the heat to medium then add the onions and garlic. Cook for 5 minutes over medium heat, tossing regularly, until the onions have softened and turned a light golden brown (manage your heat to make sure the garlic does not burn). Add the white wine and cook until reduced by half.

Stir in the diced tomatoes and tomato paste. Season with kosher salt, black pepper, the oregano, and the remaining red pepper flakes. Bring to boil, then lower the heat to medium low and allow the sauce to simmer for 10 minutes or so until thickened.

Return the shrimp to the skillet and nestle it into the sauce. Cook for 1 more minute or until the shrimp is just warmed through and pink. Finish with fresh parsley, and white balsamic vinegar. Serve immediately with your favorite crusty bread, pasta, or rice. Enjoy!