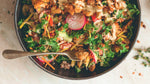 Roasted Cauliflower Salad
Ingredients:
1 cauliflower, hard stem removed and chopped into bite-sized pieces

1 tsp sweet basil extra virgin olive oil

1 tsp white balsamic vinegar

1 tbsp maple syrup

1 ½ tsp cajun seasoning

1 tsp dried thyme

sea salt and pepper

4 cups shredded kale (5-6 leaves)

1 cup cooked red rice (optional, I happened to have some leftover on hand)

1-2 carrots, grated

1 beet, grated (red, yellow, or pink, I chose yellow)

¾ cucumber, diced

1 cup cherry tomatoes, halved or quartered

2-3 radishes, sliced (optional)

2 tbsp

 

tahini
juice of

 

1

 

lemon
sea salt and pepper

1

 

clove garlic, minced (optional)
water
Instructions:
Preheat your oven to 200C (392F).

Line a baking tray with parchment paper and put the chopped cauliflower on it.
Mix the sweet basil extra virgin olive oil with the maple syrup and pour over the cauliflower. Mix to evenly coat.

Sprinkle with the cajun seasoning and dried thyme and mix again to coat everything.

Roast for 30 minutes tossing once about halfway through.

While that's roasting, prepare all your veggies and the dressing. Make the dressing by mixing all the ingredients except the water in a small bowl. Then start adding water 1 tablespoon at a time until you reach desired consistency.

Mix all your veggies in a big bowl and add some of the dressing if desired. Divide into smaller bowls, top with the cauliflower and drizzle with the dressing, and white balsamic vinegar. Enjoy!