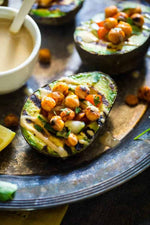 Grilled Avocado Stuffed With Chickpeas and Lavender Balsamic
Ingredients:
1 Can Chickpeas drained and rinsed, 13oz

Pompeian Grapeseed Oil Spray

1/2 tsp Smoked paprika

Salt + Pepper

2 Large avocados

1/2 Cup Cucumber diced (about half a large cucumber)

1/2 Cup Cherry tomatoes cut into quarters

1 1/2 Tbsp Fresh lemon juice + additional for servings about 1 large lemon

2 tsp Lavender Balsamic Vinegar

Cilantro for garnish
Instructions:
Preheat your grill to medium/high heat. The temperature gauge should read about 400 degrees once heated.

Place the rinsed chickpeas onto a paper towel and dry well. Transfer to a small bowl, peeling off any of the papery skins that come lose while you dried the chickpeas. Spray the chickpeas generously with Pompeian Grapeseed Oil Spray and then toss with the smoked paprika and a a few generous twists of salt and pepper.

Place the chickpeas into the bottom of the grill basket into an even, flat layer. Place onto the grill and cook for 10 minutes. Then, spray the chickpeas again with Pompeian Grapeseed Oil Spray and stir around.
Cook for another 10-12 minutes until lightly charred and crispy. Remove from heat and let cool.

Cut the avocados in half, removing the pit. Scoop out the center of the avocado so you have a large, deep hole. Spray the avocados with Pompeian Grapeseed Oil Spray and sprinkle with salt and pepper. Place, flesh-side down, onto the grill and cool until nice grill-marks form, about 5 minutes.

While the avocados cook, mix the cucumber, tomatoes and lemon juice in a small bowl. Season with a pinch of salt and pepper.

Divide the cucumber mixture between each avocado half, making sure to really stuff it into the center. Top each half with 1 Tbsp of chickpeas* and drizzle with 1/2  tsp of Lavender balsamic vinegar

Garnish with cilantro, and serve as a main dish or as a side.
Enjoy!