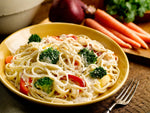 Lavender Balsamic Pasta Primavera With Fresh Basil
Ingredients:
1 box of spaghetti

1 Carrot diced

5 Baby Potatoes , cut into halves

7 Green beans (French Beans) , cut in long pieces

1 Green Bell Pepper (Capsicum) , cut into julienne

1/3 cup Sweet corn

5 Cherry tomatoes

1/2 cup Broccoli , florets

1 Onion , thinly sliced

4 cloves Garlic , finely chopped

1 cup Basil leaves , finely chopped

1 Lemon

3 tablespoons Sweet Basil Extra Virgin Olive Oil

3 tablespoons Lavender Balsamic Vinegar

Salt , to taste

Red Chilli flakes , to taste

1/4 cup Parmesan cheese , grated
Instructions:
Start by steaming broccoli, potatoes, corn, carrot and beans. You can use a steamer, pressure cooker or microwave for steaming your vegetables.

Place a saucepan on medium heat. Add water and salt to it and let it boil. Add the spaghetti and cook according to the packaged instruction. Drain the spaghetti in a colander. Reserve 1/3 cup of drained water.

Meanwhile start preparing for the sauce. Place a pan on medium heat and add extra virgin olive oil to it.

Add chopped garlic and red chili flakes. Fry till the garlic starts releasing aroma. At this stage, add the sliced onions and saute till the onions turn transparent. Do not brown the onions.

Add the steamed vegetables. Sprinkle a little salt and saute on medium heat for 2 minutes. Add the peppers, tomatoes and half of the chopped basil. Saute the vegetable mixture for 2-3 minutes.

Add the cooked spaghetti. Give it a good mix with all the vegetables. Mix it for 1-2 minutes. Add the drained water and let it simmer for 1-2 minutes.

Turn off the heat. Squeeze 1/2 tablespoon lemon juice. Mix well and adjust the salt if required.

Take out a portion of the pasta in a serving plate. Garnish it with basil, grated parmesan cheese and chili flakes.
Drizzle Lavender Balsamic Vinegar and remaining Extra Virgin Olive Oil over plated dish.
Enjoy!