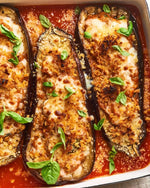 Lavender Balsamic Stuffed Eggplant Parm
Ingredients:
2 medium eggplants (about 2 1/2 pounds total)

3/4 teaspoon kosher salt, divided

1/2 teaspoon freshly ground black pepper, divided

1/4 cup Panko breadcrumbs

1 medium yellow onion, finely chopped

3 cloves garlic, minced

2 cups marinara sauce, divided

1/4 cup torn fresh basil leaves, plus more for topping

1 1/2 cups whole-milk, low-moisture shredded mozzarella, divided

1/2 cup of finely grate Parmesan Cheese, Divided Instructions:

4 tablespoons of lavender balsamic vinegar
Instructions:
Arrange a rack in the middle of the oven and heat to 400°F.

Cut each eggplant in half lengthwise. Leaving a 1/2-inch border, use a paring knife to cut around the insides of each half, then scoop out the flesh with a spoon, creating boats out of the shells. Coarsely chop the flesh and set aside.

Rub the insides of the hollowed eggplant shells with 1 tablespoon of the oil and season with 1/4 teaspoon each salt and pepper. Place the shells cut-side up in a 13x9-inch baking dish.
Roast until tender (there should be no resistance when pierced with the tip of a paring knife), about 20 to 30 minutes depending on the size of the eggplant. Set aside.

Meanwhile, combine the breadcrumbs, 1 teaspoon of the oil, and a pinch of salt in a small bowl; set aside. Heat the remaining 2 tablespoons oil in a large skillet over medium until shimmering. Add the onion and cook, stirring occasionally, until soft, 4 to 5 minutes. Add the chopped eggplant flesh, garlic, remaining 1/2 teaspoon salt and 1/4 teaspoon pepper. Cook, stirring frequently, until the eggplant is tender, 7 to 9 minutes.
Stir in 1 cup of the marinara and cook until heated through, about 2 minutes. Remove from the heat. Add the basil, 1 cup of the mozzarella, and 1/4 cup of the Parmesan and stir to combine.

Heat the broiler to high. Remove the baking dish from the oven. Transfer the eggplant shells to a work surface. Pour the remaining 1 cup of marinara sauce into the baking dish and spread into an even layer. Return the eggplant shells to the baking dish. Spoon the filling evenly into the shells.
Top with the remaining 1/2 cup mozzarella, 1/4 cup Parmesan, and reserved breadcrumb mixture.

Broil until the cheese is melted and bubbling and the breadcrumbs are browned, 2 to 4 minutes.
To serve, top the eggplant shells with marinara sauce from the baking dish, lavender balsamic vinegar to taste, and extra basil.
Enjoy!