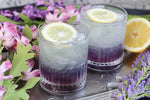 Limoncello and Lavender Balsamic Cocktail
Ingredients:
1 3/4 ounces Limoncello

1/2 ounce Crème de Violette

2 ounces Tonic Water

3/4 cup slush ice

Fresh lemon wheels for garnish
Instructions:
Into the bottom of a standard rocks glass combine Lavender Balsamic Vinegar and Crème de Violette.

Fill glass 3/4 full with slush ice.

Pour limoncello and tonic water into a cocktail shaker, add two ice cubes and stir with a long-handled bar spoon for 20 seconds.

Pour the limoncello and tonic water mixture over the slush ice.

Garnish with a sliced lemon wheel.
Enjoy!