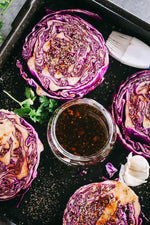 Lavender and Meyer Lemon Cabbage Steaks
Ingredients:
1 Head of red cabbage

1/4 cup Meyer Lemon extra virgin olive oil

2 tablespoons Lavender balsamic vinegar

1/2 teaspoon dijon mustard

1 clove garlic, minced

1/2 teaspoon honey

salt and fresh ground pepper, to taste

dried parsley, for garnish
Instructions:
Preheat oven to 400F and grease a rimmed baking sheet with cooking spray and set aside.

Cut the bottom (the root) off of the cabbage and set it sitting up so that the flat end is on the cutting board; cut into 1-inch thick slices.

Transfer cabbage slices to previously prepared baking sheet and set aside.

In a mixing bowl, meyer lemon extra virgin olive oil, lavender balsamic vinegar, mustard, garlic, honey, salt and pepper; mix well until combined.

Brush the cabbage steaks with prepared balsamic glaze on both sides.

Roast for 20 to 25 minutes, or until crispy tender.

Garnish with dried parsley.


Enjoy!