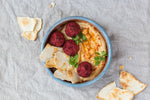 Ingredients:
1 small onion, chopped

2 garlic cloves, chopped

1/2 cup coriander leaves

1 1/2 cups chickpeas, rinsed, drained, mashed

1 large beetroot, peeled, grated

1/4 cup tahini

3 tsp ground cumin

1 cup Greek-style yoghurt

2 tbsp lemon juice

1 tsp ground coriander

1/4 cup vegetable oil

4 pita pockets

1 bunch parsley, leaves picked

1 tomato, seeded, diced

1 shallot, thinly sliced

1 tbsp garlic extra virgin olive oil

1 tbsp Cucumber White Balsamic
Hummus of your choice if desired
Instructions:

Process the onion, garlic and coriander in a small food processor until finely chopped. Transfer to a bowl. Add the mashed chickpeas, beetroot, tahini and 2 teaspoons of cumin. Season well. Mix to combine. Roll 1-tablespoons portions of the falafel mixture into small balls and place on a tray. Chill for 15 mins.

Meanwhile, to make the parsley salad, place the parsley, tomato, shallot and oil in a bowl. Season well and toss to combine.

Combine the yoghurt, lemon juice, ground coriander and remaining cumin in a bowl.

Heat 1 tablespoon Extra Virgin Olive oil in a large frying pan over high heat. Cook the pita, 1 at a time, for 1-2 mins each side or until golden, then transfer to a plate lined with paper towel. Heat remaining oil in the pan over medium heat. Cook the falafel, turning, for 4-5 mins or until browned all over.

Serve the falafel with the pita, yoghurt sauce and parsley salad. Drizzle Cucumber White Balsamic over pita and falafel. Add hummus as well for a even better meal! 
Enjoy!