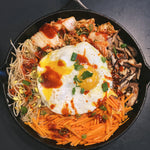 Ingredients:
1 Lebanese cucumber, cut into thin strips

3 tsp sea salt

1 1/2 cups spinach, blanched, excess liquid removed

1 tbsp sesame oil

1 1/4 tsp sesame seeds

1 cup bean sprouts, blanched, excess liquid removed

2 cups Sun Rice Sushi Rice

1 1/2 tbsp Miller's Blend EVOO

1 1/2 tbsp Sriracha Mango Balsamic

2 carrots, peeled, cut into matchsticks

300g lean beef mince

4 eggs

Chilli sauce, to serve
Instructions:

Place the cucumber and 1 teaspoon salt in a bowl. Add cold water to cover. Set aside for 20 minutes or until the cucumber softens slightly. Rinse and drain.

Combine the spinach, 2 teaspoons sesame oil, 1 teaspoon sesame seeds and 1 teaspoon of remaining salt in a bowl. Combine the bean sprouts and remaining sesame oil, sesame seeds and salt in a bowl.

Cook the rice following packet directions. Cover to keep warm.

Meanwhile, heat half the Olive oil in a frying pan over medium heat. Cook the carrot, stirring, for 2-3 minutes or until just tender. Use a slotted spoon to transfer to a bowl. Add the mince to the pan. Cook, stirring to break up any lumps, for 10 minutes or until browned. Transfer to a bowl and cover with foil to keep warm. Wipe the pan clean with paper towel.

Heat remaining Olive oil in the pan over medium heat. Crack the eggs into the pan and cook for 3 minutes or until cooked to your liking.

Divide the rice among serving bowls and arrange the mince and vegetables on top. Top with eggs drizzle Sriracha Mango Balsamic over Bibimbap. Serve with chilli sauce and miso soup.
Enjoy!