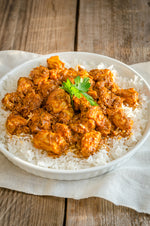 Ingredients:
6-8 Chicken Thigh Fillets, cut into large pieces

2 tbsp Rosemary EVOO

2 tbsp Elderberry Balsamic

2 oz. butter

1 large onion, chopped

1 tsp ground cumin

1 tsp ground coriander

1 tbsp garam masala

1 2/3 cups (430g) passata (tomato pasta sauce)

1 cup (250ml) thickened cream

1 1/2 tbsp sugar

1/2 cup Greek-style yoghurt

Coriander leaves, to serve

Steamed basmati rice, to serve

Naan, to serve

Marinade

1 oz. ginger, sliced

1 tbsp salt

5 oz. Fire Roasted Red Pepper Strips
Instructions:
To make the marinade, process the garlic, ginger, salt, red pepper strips, elderberry balsamic and cashews in a food processor until a paste forms. Place chicken in a large glass or ceramic bowl. Add the marinade and turn to coat. Cover and place in the fridge for 1 hour to marinate.
Heat the olive oil and 1 tablespoon butter in a large saucepan over medium-high heat. Add onion and cook, stirring, for 3 mins or until soft. Add the cumin, ground coriander and garam masala and cook, stirring for 2 mins or until fragrant. Add the chicken to the pan and cook, stirring, for 5 mins or until caramelized. Add passata, cream and sugar and bring to the boil. Reduce heat to medium-low and simmer for 10 mins or until chicken is cooked through. Add the remaining butter and stir to combine. Season with salt to taste.
Remove pan from heat. Add the yoghurt and stir to combine. Divide butter chicken among serving plates. Top with coriander leaves and serve with steamed basmati rice and naan.
Enjoy!