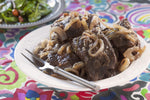 Chocolate Balsamic-Chipotle Short Ribs
Ingredients
4-5 pounds bone-in beef short ribs
2 tablespoons Kosher salt, plus more for seasoning, to taste
2 tablespoons Seven Barrels Chipotle Olive Oil
½ cup dry red wine (such as Merlot or Cabernet)
2/3 cup unsalted beef stock
3/4 cup water
2 tablespoons tomato paste
1 sweet onion, sliced
6 garlic cloves, peeled and crushed
Sprig of fresh Italian-leaf parsley
2 bay leaves
Freshly ground black pepper, to taste, for garnish
Instructions
Preheat a slow cooker on low heat and heat 2 tablespoons of Seven Barrels Chipotle olive oil in a large sauté pan over medium heat.
Arrange the ribs in a single layer on a large baking sheet and season generously with Kosher salt (This can also be done a couple of hours ahead of time and ribs held in the refrigerator).
Sear the short ribs in batches, about 3-4 minutes on each side, until a golden brown crust develops on both sides. Transfer the browned ribs to the slow cooker.
Add the wine, beef stock, water, tomato paste, onions, garlic, parsley, and bay leaves to the slow cooker and cover. Cook on low for 4-6 hours or until the meat is super tender and falls off the bone (Check the meat at 4 hours and then every half hour after that until the ribs are done).
Using a slotted spoon, transfer the ribs to a large plate or platter. Top the ribs with the cooked onions and garlic, and discard the parsley and bay leaves.
Spoon fat from the surface of the sauce and discard, season to taste with salt and pepper. Serve the ribs in shallow bowls and spoon the sauce over the ribs. If you prefer a thicker gravy, place the sauce into a large saucepan and simmer down over medium heat until reduced and thickened to your liking.
Note: An alternative cooking method is to braise the ribs in a Dutch oven by following the same instructions as per above (browning ribs, add vegetables, liquids and seasonings to the pot), but cooking them in the oven for 2 to 3 hours on 350 degrees until short ribs are tender and cooked through.
Serves 4-6