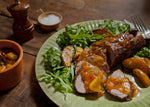 Pork Loin with Grilled Peaches
Ingredients
1 small pork tenderloin
Salt
Pepper
4 peaches: 2 halved, pitted and ready for grilling, 2 pitted and diced
3 Tbsp Garlic or Tuscan Olive Oil
1 shallot, minced
1 habanero or jalepeno pepper, minced
1 cup apricot preserves
¼ cup Georgia Peach Balsamic
Arugula
Instructions
Preheat oven to 325.
To prepare pork tenderloin: Pat dry, rub with Garlic Olive Oil, then salt and pepper.
In a large hot sauté pan, sear the meat on all sides. Place in 325 oven for 30-40 minutes or until meat thermometer reaches 145.
Grill 2 of the peaches and set aside.
For the peach sauce, heat olive oil in a small saucepan. Add peach slices,  shallots and the habanero pepper and cook for 5-6 minutes.
Add the apricot preserves and stir in the Georgia Peach Balsamic Vinegar. Cook over low heat for 10-12 minutes.
Serve the sliced tenderloin with grilled peaches over Arugula and spoon the peach sauce over the meat.  If desired, add a bit more Georgia Peach Balsamic or even a bit of Chipotle oil.
Save