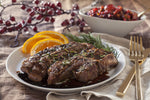 Grilled Rosemary Orange Lamb Chops with Vanilla Fig Balsamic
Instructions
Place lamb chops in a large plastic bag and add Blood Orange olive oil, salt, pepper, garlic and rosemary.
Let chops marinate in the refrigerator for at least one hour, then remove and let them come to room temperature for about 15-20 minutes.
Heat a grill pan over high heat, add lamb chops and sear for about 2 minutes. Flip them over and cook for another 3-4 minutes.
Serve the lamb chops immediately with a drizzle of the Vanilla Fig balsamic vinegar out of the bottle, and garnish with slices of orange and rosemary sprigs.
Serve with a side of Cranberry Sauce with Orange (recipe follows).
Serves 4-6.
Save