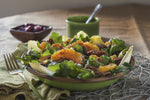 Roasted Squash Salad with Spiced Pecans
Ingredients
Olive oil cooking spray
1 tablespoon brown sugar
Sea salt and freshly ground black pepper
4 tablespoons maple syrup, divided
1/8 teaspoon cayenne pepper
¼ cup pecan halves
1 Acorn squash (can also substitute 2 Delicata or 1 Butternut Squash)
6 tablespoons Seven Barrels Blood Orange olive oil, divided
Sea salt and freshly ground pepper, to taste
1 tablespoon Dijon or Grainy mustard
1 small head of endive, cored, stems removed and torn into pieces
2 cups of baby arugula (or mixed baby greens)
¼ cup dried figs, sliced for garnish (optional)
¼ cup dried cranberries, for garnish (optional)
Instructions
Make the Spiced Pecans:
Preheat oven to 425 degrees. Lightly coat a rimmed baking sheet with cooking spray.
In a medium bowl, stir together the brown sugar and salt, set aside.
Warm 2 tablespoons maple syrup in a sauté pan over low heat, add the cayenne and stir together. Add the pecans and toss to coat.
Spread the nuts on the baking sheet and toast in the oven for about 5 minutes until lightly browned and toasted. Stir the nuts and remove baking sheet from the oven and let cool for a few minutes, then add toasted nuts to the brown sugar and salt mixture, stirring together. Place the nuts back on the pan in a single layer and set aside.
Make the Roasted Squash:
Clean the squash and cut in half lengthwise with a sharp knife. Scoop the seeds out with a spoon and discard, then cut the squash into ½ inch sliced segments, creating moon-shaped pieces.
Arrange the pieces in a single layer on another baking sheet and coat with 2 tablespoons of Blood Orange olive oil and sprinkle with sea salt.
Place in the oven and roast for about 10 minutes, then flip the squash over. Continue roasting and turning the squash for another 10 minutes, then flip again for 5 minutes until the squash is golden brown and cooked through fork tender, about 25 minutes total. Cut the rind off the cooked squash and cut into large chunks, and season with freshly ground pepper.
Make the Salad:
In a small mixing bowl, whisk together vinegar, mustard, and remaining 2 tablespoons of maple syrup. Add the remaining 4 tablespoons of olive oil slowly whisking to emulsify it into a smooth dressing. Season the dressing with salt and pepper to taste.
Place the endive and greens in a large salad bowl, pour the dressing over and mix together evenly throughout.
Cut off the rinds from the roasted squash, add to spiced pecans and toss to combine. Add dried figs or cranberries for additional garnish, if desired.
Serve at room temperature.
Serves 4.
Note: You can also substitute 1 Butternut Squash or 2 Delicata Squash for the Acorn Squash, also roasting for 25 minutes total.
Save