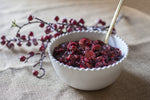 Cranberry Sauce with Orange
Ingredients
1/2 cup sugar
1/4 cup water
1 12-oz package of fresh cranberries
1 cinnamon stick
1 tablespoon orange zest
1 tablespoon Seven Barrels Blood Orange olive oil
6 ounce can mandarin oranges, chopped
1/2 cup crushed pineapple
1/2 cup red grapes, halved
1/2 jalapeno pepper, chopped fine (optional)
½ cup pecans, chopped
Instructions
Combine sugar, water & vinegar over medium heat and boil until sugar dissolves. Mix in cranberries, cinnamon stick & orange zest.
Reduce heat, cover partially and simmer until berries burst, about 10 minutes. Remove from heat, and cool completely. Discard cinnamon stick.
Mix in the Blood Orange olive oil, mandarin oranges, pineapple, halved grapes, jalapeno pepper and chopped pecans.
Serve with Grilled Lamb Chops.
Note: Cranberry sauce can be made 3 days ahead. Cover and chill.
Save