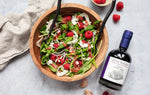 Arugula Raspberry Balsamic Salad
Preparation: 10 minutes Cook time: 0 minutes Serves 4
Ingredients:
1 pint fresh raspberries, divided
¼ cup Seven Barrels Miller's Blend Extra-Virgin Olive Oil
3 tablespoons Seven Barrels Raspberry Balsamic Vinegar
1 tablespoon chopped shallot
1 tablespoon fresh lemon juice
1 garlic clove, chopped
½ teaspoon sugar
½ teaspoon salt
10 ounces baby arugula greens
½ red onion, thinly sliced
½ fennel bulb, trimmed and thinly sliced
½ cup crumbled goat or feta cheese
Instructions:
To make the dressing: Place 1/3 cup of the raspberries, olive oil, vinegar, shallot, lemon juice, garlic, sugar and salt in a small food processor or blender and process until smooth.
Combine the arugula, red onion and fennel bulb in a large salad bowl. Top with the remaining raspberries and cheese. Drizzle with about half the dressing, toss together gently and serve.
Extra dressing can be refrigerated up to 3 days.
Enjoy!