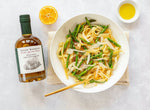 Meyer Lemon Pasta with Asparagus
Preparation: 10 minutes Cook time: 15 minutes Serves 2-4
Ingredients:
2 tablespoons Seven Barrels Meyer Lemon Extra Virgin Olive Oil, plus more for serving
2 tablespoons butter
¼ cup finely chopped shallots
Kosher Salt
12 ounces tagliatelle or fettuccine pasta
½ pound asparagus, ends trimmed, sliced into 2-inch pieces
¼ cup freshly grated Parmesan cheese, plus more for serving
2 teaspoons grated fresh lemon zest
Instructions:
Place a large skillet over medium heat. Add the olive oil, butter and shallots and cook 3-5 minutes, until the shallots are softened, stirring occasionally. Turn off the heat and leave the pan on the stovetop.
Bring a large pot of water to a boil with 2-3 tablespoons salt.
Cook the pasta according to package directions. During the last minute of cooking, add the asparagus to the pasta pot. Scoop out and reserve ½ cup of the pasta cooking water, then drain.
Turn the heat to medium under the skillet. Add the drained pasta and asparagus, ¼ cup cheese, lemon zest and ¼ cup of the pasta water. Toss with tongs until the pasta is coated with the sauce, adding additional water a teaspoon at a time if needed.
Serve the pasta in bowls, topped with additional olive oil and cheese to taste.
Enjoy!