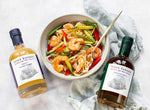 Coconut-Lime Shrimp and Noodle Salad
Preparation: 15 minutes Cook time: 0 minutes
Serves 4
Ingredients:
8 ounces dried rice noodles
8 ounces cooked shrimp
2 Persian or baby cucumbers, sliced into matchsticks
½ red bell pepper, sliced into matchsticks
2 green onions (white and green sections), sliced into matchsticks
¼ cup Seven Barrels Coconut Balsamic Vinegar
¼ cup Seven Barrels Lime Extra Virgin Olive Oil
1 ½ - 2 teaspoons sriracha sauce, to taste
1 tablespoon fresh lime juice
1 teaspoon pressed or grated garlic
3/4 teaspoon sea salt
½ teaspoon sugar
Instructions:
Cook the rice noodles in boiling water according to package directions. Drain, rinse under cold water and drain once more. Transfer to a large bowl.
Add the shrimp, cucumber, red pepper and green onions and toss together. In a medium bowl, whisk the balsamic vinegar, olive oil, sriracha, lime juice, garlic, salt and sugar until blended.
Pour the dressing over the noodle mixture and toss until evenly coated. Serve in bowls.
Enjoy!