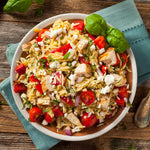 Ingredients
8 ounces orzo pasta (1 ¼ cup dry)
1 cup canned chickpeas, drained and rinsed
1/2 lemon, juice and zest (about 2 tablespoons juice)
¼ cup minced shallot or red onion
1/2 English cucumber (2 cups diced, or substitute a peeled standard cucumber)
2 roasted red peppers from a jar or ½ fresh red bell pepper (½ cup diced)
⅓ cup chopped dill, plus more for garnish
⅓ cup chopped mint
2 tablespoons Peach Balsamic vinegar
3 tablespoons Rosemary extra-virgin olive oil
½ teaspoon Dijon mustard
1 teaspoon dried oregano
½ cup feta cheese crumbles
⅓ cup Kalamata olives, halved
Black pepper
Instructions
Prepare the orzo according to the package instructions. Taste the orzo a few minutes before completion to ensure it's 'al dente' (chewy, but with a little firmness in the center). When it's done, drain it and then rinse it under cold water until it comes to room temperature.

Place the chickpeas in a bowl with the lemon zest, lemon juice, and ¼ teaspoon kosher salt.

Mince the red onion, then place it in a bowl with water (this helps to remove the sharp onion taste). Dice the cucumber. Dice the roasted red pepper. Chop the herbs.

Stir together the orzo, chickpeas and bowl of lemon juice, red onion, cucumber, red pepper, dill, mint, Peach Balsamic vinegar, Rosemary extra virgin olive oil, Dijon mustard, oregano, feta crumbles, black olives, and several grinds of black pepper. Taste and if necessary, season with more kosher salt.
Enjoy!