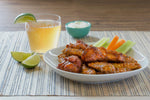 Sriracha Mango Lime-Glazed Chicken Wings
Ingredients
Chicken Wings:
2 pounds chicken wings (24 wing pieces)
1/4 cup Seven Barrels Lime Olive Oil
1 teaspoon garlic salt
1 teaspoon freshly ground black pepper
Vegetable oil or spray, for grill
Sriracha Mango Lime Glaze:
1 cup mango, peeled and diced
¼ cup orange juice
¼ cup Sriracha
1 tablespoon Seven Barrels Sriracha Mango Vinegar
1 tablespoon Seven Barrels Lime Olive Oil
1 tablespoon honey
1 tablespoon soy sauce
1 tablespoon garlic, finely minced (or 1 teaspoon garlic powder)
1 small red chile pepper
¼ cup cilantro
Salt and pepper, to taste
Ginger Lime Sour Cream Dipping Sauce:
½ cup sour cream
1 tablespoon Seven Barrels Lime Olive Oil
1 teaspoon garlic salt
1 teaspoon fresh lime zest
½ teaspoon fresh ginger, grated
Instructions
Heat a grill or grill pan over medium-high heat (spray or brush pan with a light coat of cooking oil). Toss the chicken wings in 1/4 cup Seven Barrels Lime Olive Oil, and season with salt and pepper. Cook wings on the grill for about 15 minutes, flipping halfway through, until no longer pink and skin starts to get charred with grill marks.
To make the glaze, add the mango, orange juice, Sriracha, Seven Barrels Sriracha Mango Vinegar, Seven Barrels Lime Olive Oil, honey, soy sauce, garlic, chile pepper and cilantro into a food processor and process until smooth. Place the sauce into a saucepan over medium-low heat and let simmer until warmed through while the wings are cooking. Season with salt and pepper to taste. Remove from the heat to a large mixing bowl.
Once the wings are finished cooking, toss them gently in the Sriracha Mango Lime glaze and let them marinate for about 5 minutes or so. Return wings back to the grill for an additional 5 minutes, flipping over once. Remove wings from the grill on to a large platter and let them cool to give them a nice caramelized glaze.
To make the Ginger Lime Sour Cream dipping sauce, stir together the sour cream, Seven Barrels Lime Olive Oil, garlic salt, lime zest and grated ginger in a bowl and serve with the wings with celery and carrot sticks.
NOTE: Alternatively, you can bake the wings for 1 hour at 375° on a large baking sheet covered with foil (and toss them in the sauce at the end).
Makes approximately 24 wings, 1 cup of glaze and ½ cup sour cream sauce.
Save