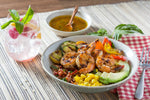 Summer Bowl with Sriracha Mango Lime Shrimp
Ingredients
Marinade & Shrimp ingredients:
Cooking oil or spray for grill
6 tablespoons Seven Barrels Sriracha Mango vinegar
1 teaspoon Dijon mustard
1 garlic clove, minced
¼ teaspoon sea salt, to taste
Freshly ground black pepper, to taste
1/4 teaspoon hot paprika or cayenne pepper
1 tablespoon fresh cilantro, chopped
2 pounds shrimp, peeled and deveined
Bowl ingredients:
1 cup quinoa, cooked
2 tablespoons Seven Barrels Lime Olive Oil, divided
Lime zest
Salt and pepper, to taste
1/2 zucchini, sliced ¼ inch rounds
1/2 yellow squash, sliced ¼ inch rounds
1 cup bell peppers (red, yellow, orange), cut into large chunks
1/2 cup corn kernels, cooked or grilled
4-5 slices bacon, cooked and crumbled
1 avocado, sliced or cut into large chunks
4-6 thin slices fresh mango
1 small red chile pepper, minced (optional)
Fresh torn basil leaves, for garnish
Instructions
Mix the Seven Barrels Lime Olive Oil, Seven Barrels Sriracha Mango Balsamic vinegar, mustard, garlic, salt, pepper, hot paprika, and chopped cilantro together in a mixing bowl and reserve half for dressing. Add shrimp to the other half in a plastic ziptop bag, tossing to coat, and marinate for 20 mins up to overnight in the fridge.
Meanwhile, cook quinoa according to package directions, fluff with a fork and toss with one tablespoon of Seven Barrels Lime Olive oil and lime zest, salt and pepper to taste; set aside.
Heat a grill or grill pan over high heat and spray with cooking oil.
In a large mixing bowl add zucchini, squash, and bell peppers and toss with Seven Barrels Lime Olive Oil, salt and pepper to coat. Grill veggies for about Seven-8 minutes until charred and soft. Remove from grill, set aside.
Heat or grill corn (cut into kernels); cook, drain and crumble the bacon; slice avocado, set aside.
Remove shrimp from the marinade and grill for about 6 minutes on the grill, flipping over once, until shrimp are pink and cooked through, set aside.
Assemble the bowls by layering the cooked ingredients: quinoa, grilled veggies, corn, bacon and shrimp. Top with slices of avocado, mango, red chile pepper. Drizzle with additional reserved Sriracha Mango Lime dressing, fresh torn basil, salt and pepper to taste.
Serves 2-4.
Save