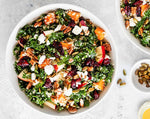 Fall Harvest Salad with Red Apple Balsamic Vinaigrette
Ingredients:
1 small butternut squash peeled, seeded, and diced

salt and freshly ground pepper

⅔ cup raw quinoa

1 cup water

2 cups chopped kale leaves

2 small apples cored and sliced or diced

Toppings:

¼ cup dried cranberries

¼ cup pecans roughly chopped

⅓ cup crumbled feta cheese I used reduced-fat

1 ½ tablespoon roasted pumpkin seeds

For the apple cider vinaigrette:

¾ tablespoon honey or maple syrup

1 ½ teaspoon Dijon mustard

1 garlic clove minced

salt and ground black pepper
Instructions:

Preheat the oven to 400°F

On a baking sheet, toss together the butternut squash, olive oil, and a pinch each of salt and pepper. Transfer to the oven and roast for 16 minutes, flipping halfway through cooking, until the squash is tender. Remove from the oven and let it cool completely.

Cook the quinoa. Rinse the quinoa and drain. In a small saucepan, combine the quinoa with water and bring to a boil uncovered.

When it starts to boil, reduce the heat to medium-low, cover, and simmer for 20 minutes or until the water is absorbed and the quinoa is light and fluffy.

Make the dressing
Whisk all the ingredients together in a bowl (or shake together in a mason jar) until combined.Taste and adjust the salt and pepper.

Massage the kale
Place the kale in a large bowl and pour half of the vinaigrette over the top. Use your hands to gently massage the dressing into the kale for about 30 seconds, until it starts to soften.

Assemble the salad
Add the quinoa, roasted butternut, and apples into the bowl with the kale and toss to combine.

Divide the salad between 3 plates, then top with the chopped pecans, toasted pumpkin seeds, dried cranberries, and crumbled feta cheese. Drizzle the remaining vinaigrette over the top, and serve.
Enjoy!