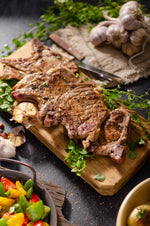 Ingredients:
4 pork chops bone in, or boneless

1/4 cup Red Apple Balsamic Vinegar

1 1/2 tablespoons brown sugar

2 teaspoons Dijon mustard

1 1/2 tablespoons soy sauce

1 teaspoons lemon zest

2 teaspoons parsley leaves chopped, plus more for garnish

2 teaspoons thyme leaves chopped

1/2 teaspoon salt

1/2 teaspoon pepper

1 teaspoons minced garlic
Instructions:
Place the pork chops in a bowl or resealable gallon sized bag.

In a medium sized bowl, whisk together the rosemary olive oil, red apple balsamic vinegar, brown sugar, Dijon mustard, soy sauce, lemon zest, parsley, thyme, salt, pepper and garlic.

Pour the marinade over the meat. Marinate for at least 1 hour, or up to 8 hours.

Preheat an outdoor grill or indoor grill pan to medium heat.

Place the pork on the grill. Cook for 6-8 minutes per side or until a thermometer inserted into the thickest part of the chop registers 145 degrees F.

Let the meat rest for 5 minutes, then serve. Garnish with additional chopped parsley if desired.