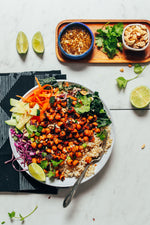 Miso Chickpea Bowls with Garlic Cucumber Dressing
Ingredients:
2 cups cooked brown rice, rice noodles, quinoa, or cauliflower rice

1 15-ounce can chickpeas, rinsed, well drained, and towel dried

2 Tbsp toasted or untoasted sesame oil 

1 Tbsp white or yellow miso paste

3 tsp maple syrup divided

1 tsp chili garlic sauce or 1/2 tsp red pepper flake

1 Tbsp coconut aminos

2 Tbsp lime juice

4 cloves garlic, minced (optional // 4 cloves yield ~2 Tbsp)

1 ½ cups thinly sliced vegetables (such as red or green cabbage, bell pepper, cucumber, or carrots)

1/4 cup finely chopped roasted salted peanuts or cashews (optional)

Quick Ginger Garlic Miso Tahini Dressing (optional)
Instructions:
If serving with grains, prepare at this time (rice, noodles, quinoa, etc)
Preheat oven to 425 degrees F. Rinse and drain chickpeas well. Then pat very dry — this will help them crisp up.

To a medium mixing bowl add extra virgin olive oil, miso paste, maple syrup, and chili garlic sauce or red pepper flake and whisk to combine. Then add chickpeas and toss to coat.

Arrange on a parchment-lined baking sheet (or more baking sheets as needed if increasing batch size) and bake for 20-25 minutes, tossing/stirring once at the halfway point to ensure even baking. They're done when crisp and deep golden brown. Set aside.

Next prepare dressing by adding chili garlic paste or red pepper flake, maple syrup, coconut aminos or tamari, lime juice, Cucumber balsamic, and garlic (optional) to a small mixing bowl and whisking to combine.

Taste and adjust flavor as needed, adding more lime or vinegar for acidity, salt or coconut aminos or tamari for saltiness, maple syrup for sweetness, or chili garlic sauce or red pepper flake for added heat.

Prepare any vegetable garnishes / toppings at this time and set aside.
To serve, divide grains between serving bowls and top with chickpeas, veggies of choice, and dressing. This bowl is elevated with the addition of our Quick Ginger Garlic Miso Tahini Dressing as well!